http://www.washingtonpost.com/wp-dyn/content/article/2008/07/14/AR2008071401049.html
President Bush Lifts Executive Ban on Offshore Drilling
By Dan Eggen and William Branigin
Washington Post
July 14, 2008
President Bush today lifted a presidential ban on offshore oil drilling on the outer continental shelf that was implemented by his father
, escalating a confrontation with Democrats in Congress over how to cope with soaring gasoline prices.
Lifting the executive moratorium has no immediate practical effect, because Congress enacted its own prohibition on offshore drilling in 1981
. It would have to be rescinded for exploration to proceed.
In a Rose Garden statement at the White House,
Bush argued that allowing drilling in the eastern Gulf of Mexico and off the Atlantic and Pacific coastlines would ease pressure on oil prices by increasing domestic production

.

Bush also advocated taking other steps, such as allowing drilling in the Alaskan wilderness and access to oil shale in a basin that stretches across parts of Wyoming, Utah and Colorado. He blamed congressional opposition to drilling for the current run-up in gas prices.
"We need to take action now to expand domestic oil production," Bush said.
Asserting that "failure to act is unacceptable," he said today's move clears away executive branch restrictions on offshore oil exploration.
"This means that the only thing standing between the American people and these vast oil resources is action from the U.S. Congress,"
he said.
Bush's move was aimed at increasing pressure on Democrats to act. It also raised the likelihood that offshore drilling would become a prominent part of the ongoing presidential campaign.
Bush

first called on Congress to lift its drilling ban last month, saying he would simultaneously rescind the executive ban announced by

his father, President George H. W. Bush, in 1990

and formally implemented in 1992.

But he said today that he decided to act now because Democrats have failed to schedule any hearings or take the issue seriously.

"It's been almost a month since I urged Congress to act, and they've done nothing," Bush said. "As the Democratically controlled Congress has sat idle, gas prices have continued to increase."
Sen. John McCain
(Ariz.), the presumptive GOP nominee, has endorsed opening the outer continental shelf for exploration. The expected Democratic nominee,
Sen. Barack Obama
(Ill.), opposes lifting the moratorium, arguing that drilling would take years and would have no appreciable impact on gas prices.

On Capitol Hill, key Democrats denounced Bush's move and focused on their calls for legislation forcing oil companies to instead drill on the millions of acres for which they already hold leases
.
"The president didn't follow his father's policy on Iraq, and now he's not following his father's policy on offshore oil drilling," said
Sen. Barbara Boxer
(D-Calif.),
chairwoman of the Senate's Environment and Public Works Committee. "Ironically, the result will be less pressure on the oil companies to produce on the leases they already hold."
Boxer added:
"At a time when the Bush administration is failing on housing, the economy, the deficit, the environment and foreign policy, the president is desperately trying to divert responsibility for outrageous gas prices from himself to the Congress."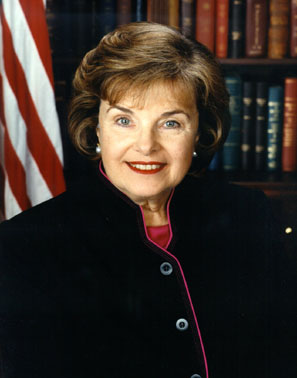 Sen. Dianne Feinstein
(D-Calif.)
called Bush's announcement "a false promise that simply won't deliver" the benefits he claims.
Feinstein said
it would take at least seven years under the best circumstances to begin drilling in areas currently under a moratorium, and she argued that the risk of environmental accidents is too great.
"There simply are no good or easy options to bring prices down," Feinstein said.
"Instead, what we need is a long-term solution that will reduce America's reliance on fossil fuels."
[THIS IS NOT TRUE, SENATORS. MARKET PSYCHOLOGY & SPECULATION IS AFFECTED BY THE EXISTENCE OR NON-EXISTENCE OF VIABLE SHORT TERM and LONG TERM GOVERNMENT PLANS TO RESOLVE THE ENERGY CRISIS. ONE OPTION, AMONG OTHERS, IS TO OPEN UP OFFSHORE DRILLING. OTHER OPTIONS INCLUDE INCENTIVIZING THE DEVELOPMENT OF NEW TECHNOLOGIES TO ENSURE AFFORDABLE, CLEANER BURNING FOSSIL FUELS, AS WELL AS, THE DEVELOPMENT OF RENEWABLE NON-FOSSIL FUEL ENERGY TECHNOLOGIES TO MEET BURGEONING U.S. ENERGY DEMANDS. HOWEVER, CONGRESS' SITTING ON ITS HANDS AND PLEAING FOR CONSERVATION SIMPLY DOESN'T MAKE PRACTICAL SENSE AS CONSUMERS SUFFER HIGHER OIL & GAS PRICES FOR THEIR HOMES, AUTOS AND BUSINESSES.]
Sen. Robert Menendez
(D-N.J.),
a leading opponent of oil exploration in the outer continental shelf and author of a bill to permanently ban drilling off the Atlantic coast, said in a statement that Bush's plan "won't produce a drop of oil until 2017 and won't lower gas prices ever."
To provide relief in the near term, he said, "we must crack down on speculation in the oil markets" and require oil companies to tap into "the 68 million acres of unused land already leased to them by American taxpayers."
To reduce U.S. dependence on oil in the long term and avoid future gas price crises, "we must transition from a transportation system based on oil to one based on renewable energy and advanced alternative fuels,
"
Menendez said.
"And we can do it in the time George Bush and John McCain would have us wait for minimal oil production along our coastlines. Bush's plan "is not a serious proposal to help American families," he charged. "This is exploitation of pain at the pump to give yet another handout to oil companies."
[DEAR SENATOR MENENDEZ, SINCE YOU ARE A SENATOR FROM OUR HOME STATE, WE ESPECIALLY FIND YOUR RECOMMENDATIONS AN INSULT TO THE INTELLIGENCE OF NEW JERSEY RESIDENTS.]
[SENATOR MENENDEZ, WE MUST DO EVERYTHING WE CAN TO ENSURE THAT THE U.S. HAS SUFFICIENT ENERGY SUPPLIES, WHATEVER THE FORM, TO MEET ENERGY DEMAND, NOW AND IN THE FUTURE. THIS MEANS CLEANER BURNING, AFFORDABLE FOSSIL FUELS, SUCH AS OIL, NATURAL GAS, COAL & NUCLEAR, as well as, RENEWABLE TECHNOLOGIES SUCH AS SOLAR & WIND. BY TAKING EVERYTHING OFF THE TABLE EXCEPT RENEWABLE TECHNOLOGIES, YOU'RE ONLY SPEAKING OF THE LONG TERM AND AVOIDING THE SHORT TERM. HOW MUCH LONGER DO YOU EXPECT NEW JERSEY RESIDENTS TO TOLERATE THE CURRENT RUN UP IN GAS AND HOME COOLING/HEATING PRICES??]
[FURTHERMORE,
SENATOR, THE STATE OF NEW JERSEY COULD DERIVE SUBSTANTIAL REVENUES FROM LICENSING OIL & GAS DRILLING OF THE NEW JERSEY COASTLINE. -
"In accordance with the federal Submerged Lands Act of 1953 (SLA),10 coastal states are generally entitled to an area extending three geographical miles11 from their officially recognized coast (or baseline). In order to accommodate the claims of certain states, the SLA provides for an extended three marine league seaward boundary in the Gulf of Mexico if a state can show such a boundary was provided for by the state's "constitution or laws prior to or at the time such State became a member of the Union, or if it has been heretofore approved by Congress." After enactment of the SLA, the Supreme Court of the United States held that the Gulf coast boundaries of Florida and Texas do extend to the three marine league limit; other Gulf coast states were unsuccessful in their challenges.
Within their offshore boundaries, coastal states have "(1) title to and ownership of the lands beneath navigable waters within the boundaries of the respective states, and (2) the right and power to manage, administer, lease, develop and use the said lands and natural resources
..." Accordingly, coastal states have the option of developing offshore oil and gas within their waters; if they choose to develop, they may regulate that development." See Offshore Oil and Gas Development: Legal Framework, Congressional Research Service Report # RL33404 (May 3, 2007) at pp. CRS-4-5, at:
http://www.cnie.org/NLE/CRSreports/07Jun/RL33404.pdf
.
WOULDN'T IT BEHOOVE NEW JERSEY TO CONSIDER
HOW TO DERIVE MORE GENERAL FUNDS FROM LEASING IN ORDER TO MAKE UP FOR HISTORIC STATE BUDGET SHORTFALLS, IN ORDER TO RELIEVE THE FISCAL BURDEN ON NEW JERSEY TAXPAYERS??

]
Calling today's move "a political stunt,"
Rep. Rahm Emanuel
(D-Ill.) said
releasing oil from the Strategic Petroleum Reserve and forcing oil companies to drill on the leased land they already control "would be a good place to start" in trying to lower gas prices.
[FOR REP. RAHM EMANUEL TO GET INVOLVED, GIVEN HIS INFLUENTIAL POLITICAL POSITION IN THIS YEAR'S PRESIDENTIAL ELECTION, IT MUST MEAN THAT THIS POLICY DECISION HAS STRUCK A VERY SENSITIVE NERVE AMONG THE MAJORITY MEMBERS OF CONGRESS. DEAR ILLINOIS CONGRESSMAN, HOW WOULD SUCH DRILLING AFFECT YOU AND YOUR ILLINOIS CONSTITUENTS? DO SOME FEEL THAT DRILLING BEYOND 50 MILES OFFSHORE WOULD 'ENDANGER' THE RESALE VALUE OF THEIR LAKEFRONT PROPERTIES??]
House Speaker Nancy Pelosi
(D-Calif.)
expressed similar sentiments, describing Bush's move as "a hoax" that "will neither reduce gas prices nor increase energy independence." She said in a statement: "Once again, the oilman in the White House is echoing the demands of Big Oil." His plan "just gives millions more acres to the same companies that are sitting on nearly 68 million acres of public lands and coastal areas," she said.
Bush formally lifted the executive ban today in a "memorandum for the secretary of interior" released by the White House.
"Now the ball is squarely in Congress's court," Bush said in his Rose Garden announcement.
"Democratic leaders can show that they have finally heard the frustrations of the American people by matching the action I've taken today, repealing the congressional ban, and passing legislation to facilitate responsible offshore exploration."


He said the legislation must give states "a say in what happens off their shores," provide for the sharing of new leasing revenues between the states and the federal government and ensure environmental protection.

Bush said allowing access to the outer continental shelf "could eventually produce nearly 10 years' worth of America's current annual oil production," or about 18 billion barrels of crude.


According to a report last year by the Energy Department's Energy Information Administration, however, "access to the Pacific, Atlantic, and eastern Gulf regions would not have a significant impact on domestic crude oil and natural gas production or prices before 2030." Because oil prices are determined on the international market, it added, "any impact on average wellhead prices is expected to be insignificant."


In a speech at the White House June 18, Bush urged lawmakers to lift the 27-year-old ban on drilling for oil and gas on the outer continental shelf, arguing that the country needs more domestic energy production to help reduce dependence on foreign oil and ease upward pressure on gasoline prices.


The White House hopes that record crude oil prices and a national average price for regular unleaded gasoline of nearly $4.11 a gallon will weaken opposition to the new offshore drilling.
Among the opponents are environmental groups, tourism interests, commercial fishermen and most Democrats in Congress.

The congressional moratorium was imposed in 1981, when lawmakers from coastal states sought to block leases for oil and gas drilling off the coasts of Massachusetts and California. Congress has approved the moratorium every year since then.


A decade later, President George H.W. Bush issued a separate executive order banning offshore oil drilling. That prohibition was initially set to expire in 2002, but in 1998 President Bill Clinton extended it to 2012.

Staff writer Paul Kane contributed to this report.
-----------------------------------------------------------------------------------------------
Bush Lifts Ban on Offshore Drilling
By BEN FELLER,

Associated Press

WASHINGTON (July 14) - President Bush on Monday lifted an executive ban on offshore oil drilling and challenged Congress to follow suit, aiming to turn the enormous public frustration about gasoline prices into political leverage. Democratic lawmakers rejected Bush's plan as a symbolic stunt.
With gas prices topping $4.10 a gallon nationally, Bush made his most assertive move to extend oil exploration, an energy priority of his presidency. By lifting the executive prohibition against coastal drilling, Bush rescinded a White House policy that his own father put in place in 1990.

The move will have no practical effect unless Congress acts, too. Both executive and legislative bans must be lifted before offshore exploration can happen.Bush had called on Congress a month ago to go first, then reversed himself on Monday. He said the country could no longer afford to wait.

"The only thing standing between the American people and these vast oil resources is action from the U.S. Congress," Bush said in a statement in the Rose Garden. "Now the ball is squarely in Congress' court."

"Democratic leaders can show that they have finally heard the frustrations of the American people by matching the action I've taken today, repealing the congressional ban, and passing legislation to facilitate responsible offshore exploration," Bush said.

The president's direct link between record gas prices and offshore drilling glossed over a key point. Even if Congress agreed, the exploration for oil would take years to produce real results. It is not projected to reduce gas prices in the short term. Even the White House routinely emphasizes there is no quick fix.
That did not stop Bush from building his case around today's prices at the pump.
He said every extra dollar that families must spend on gas is one they could be using to put food on their table or to send a child to school. The American people, he said, are now "waiting to see what the Congress will do."
The White House says that acting now on a long-term solution would send a serious signal to the market that more oil supply will be coming on line. That, in turn, could ease oil prices, advocates say. Business groups and many Republican lawmakers applauded the move to expand the energy supply in the U.S.Democrats were unmoved.
"The Bush plan is a hoax," responded House Speaker Nancy Pelosi. "It will neither reduce gas prices nor increase energy independence."
Several Democratic leaders in Congress said oil companies are already sitting on millions of acres of public and coastal lands.Yet a proposal by Democrats to release oil from an emergency reserve has been rejected by the White House as a gimmick that won't reduce prices.
So the election-year stalemate remains.Congressional Democrats, joined by some GOP lawmakers from coastal states, have long opposed lifting the prohibition that has barred energy companies from waters along both the East and West coasts and in the eastern Gulf of Mexico. A succession of presidents, including the current one, has sided with Congress for each of the last 27 years in barring drilling in these waters.
The main goal has been to protect beaches and coastal states' tourism economies. But Bush says that with today's technology, exploration can be conducted along the Outer Continental Shelf in ways that keep the drilling out of sight and protect the environment.
The congressional ban is renewed yearly, typically as part of a spending bill. The White House said it was too soon to comment on a potential Bush veto.

Under Bush's proposal, states would help decide how drilling would be conducted off their shores. It is unclear how much oil would be available. Bush said it could eventually be enough to produce 10 years' worth of America's current oil production.
Both presidential campaigns weighed in.
Sen. John McCain, the presumptive Republican presidential nominee, called Bush's move "a very important signal" and prodded his Democratic rival, Sen. Barack Obama, should drop his opposition to offshore drilling.
"If we can show that we have significant oil reserves off our coasts, that will clearly affect the futures market and affect the price of oil,"
McCain said.
Obama favors another
economic stimulus package that includes energy rebates, as well as stepped up efforts to develop alternative fuels
. "If offshore drilling would provide short-term relief at the pump or a long-term strategy for energy independence, it would be worthy of our consideration, regardless of the risks," Obama spokesman Bill Burton said in a statement. "But most experts, even within the Bush administration, concede it would do neither."
[WE AGREE THAT PART OF ANY VIABLE SHORT & LONG-TERM ENERGY STRATEGY IS THE PROMOTION OF ALTERNATE FUELS. BUT THAT ALONE WON'T ADDRESS THE CURRENT RUN UP IN HOME COOLING/HEATING & GASOLINE PRICES. AN ENERGY POLICY THAT KEEPS ALL OPTIONS 'ON THE TABLE' IS WHAT IS NEEDED TO REASSURE THE MARKETS and CONSUMERS. THE ABSENCE OF SUCH A PROGRAM ONLY EXACERBATES THE RISK THAT ENERGY SUPPLIES WON'T MEET CURRENT OR FUTURE ENERGY DEMAND. WHAT OTHER REAL 'RISKS' DO YOU SPEAK OF?? CLIMATE CHANGE??? CLIMATE CHANGE REGULATORY RISK?? WHY DON'T YOU ALL ADMIT TO THE AMERICAN PUBLIC THAT THE GOVERNMENT'S IMPOSITION OF CARBON DIOXIDE EMISSIONS CAPS ON ENERGY PRODUCERS & THE SUBSEQUENT ALLOCATION (1ST A GIVE-AWAY and THEN THE COSTLY SALE) OF CARBON EMISSIONS 'CREDITS' PURSUANT TO A CARBON 'CAP & TRADE' REGULATORY REGIME WOULD MOST CERTAINLY AFFECT CONSUMERS' POCKETBOOKS BY INCREASING THE COST OF EVERYTHING THEY BUY, USE OR SELL!!]
Environmental groups also criticized Bush.
The public, though, is growing impatient for answers.
Nearly half the people surveyed by the Pew Research Center last month said they now consider energy exploration and drilling more important than conservation, compared with a little over a third who felt that way only five months ago. The sharpest shift in attitude came from those who had previously viewed exploration as a less important priority, including people who identified themselves as liberals, independents and Democrats.

Copyright 2008 The Associated Press.
------------------------------------------------------------------------------------------------
Memorandum for the Secretary of the Interior
White House News

July 14, 2008
SUBJECT: Modification of the Withdrawal of Areas of the United States Outer Continental Shelf from Leasing Disposition

Under the authority vested in me as President of the United States, including section 12(a) of the Outer Continental Shelf Lands Act, 43 U.S.C. 1341(a), I hereby modify the prior memoranda of withdrawals from disposition by leasing of the United States Outer Continental Shelf issued on August 4, 1992, and June 12, 1998, as modified on January 9, 2007, to read only as follows:

Under the authority vested in me as President of the United States, including section 12(a) of the Outer Continental Shelf Lands Act, 43 U.S.C. 1341(a), I hereby withdraw from disposition by leasing, for a time period without specific expiration, those areas of the Outer Continental Shelf designated as of July 14, 2008, as Marine Sanctuaries under the Marine Protection, Research, and Sanctuaries Act of 1972, 16 U.S.C. 1431-1434, 33 U.S.C. 1401 et seq.

Nothing in this withdrawal affects the rights under existing leases in these areas.
GEORGE W. BUSH

-----------------------------------------------------------------------------------------------
Offshore Oil and Gas Development: Legal Framework
, Congressional Research Service Report # RL33404 (May 3, 2007) at pp. CRS-4-5 .

The primary federal law governing development of oil and gas in federal waters is the Outer Continental Shelf Lands Act (OCSLA). As stated above, the OCSLA codifies federal control of the OCS, declaring that the submerged lands seaward of the state's offshore boundaries appertain to the U.S. federal government. More than simply declaring federal control, the OCSLA has as its primary purpose 'expeditious and orderly development [of OCS resources], subject to environmental safeguards, in a manner which is consistent with the maintenance of competition and other national needs....' To effectuate this purpose, the OCSLA extends application of federal laws to certain structures and devices located on the OCS, provides that the law of adjacent states will apply to the OCS when it does not conflict with federal law, and, significantly, provides a comprehensive leasing process for certain OCS mineral resources and a system for collecting and distributing royalties from the sale of these federal mineral resources. The OCSLA thus provides comprehensive regulation of the development of OCS oil and gas resources.
Although in general the...Outer Continental Shelf Lands Act (OCSLA) requires the federal government to prepare, revise and maintain an oil and gas leasing program, many offshore areas are withdrawn from disposition under the OCSLA. There are currently two broad categories of OCS moratoria, those imposed by the President under authority granted by the Outer Continental Shelf Lands Act and those imposed directly by Congress
which have most often taken the form of limitations on the use of appropriated
funds. Congressionally imposed moratoria have been imposed since the early
1980s and have been approved annually thereafter. In 1990, President Bush issued
a directive essentially paralleling the congressionally mandated moratoria, prohibiting
most oil and gas development outside of the offshore areas associated with (though
not belonging to) Texas, Louisiana, and Alabama. This presidential withdrawal
was to be effective until after the year 2000. In 1998, President Clinton issued a new
executive branch moratorium, lasting until June 30, 2012. The Clinton order refers
to the 1997 congressional moratorium and adopts the substance of that enactment
expressly, which itself included by reference those areas covered by the 1990
presidential withdrawal.
...43 U.S.C. § 1341(a) ("The President of the United States may, from time to time,
withdraw from disposition any of the unleased lands of the outer Continental Shelf."). The
President's Memorandum on Withdrawal asserts that the presidential authority for imposing
the OCS moratorium is contained in section 12(a) of the OCSLA. The statement also
indicates that withdrawal from leasing is also authorized under those portions of the Marine
Protection, Research, and Sanctuaries Act of 1972 authorizing the President, under certain
circumstances, to establish marine sanctuaries and to impose certain levels of environmental
protection within those sanctuaries. Notably, this presidential statement does not cite any
inherent, constitutionally-based executive authority for executive control of OCS resources,
and none is immediately apparent. In general, Congress, acting pursuant to its constitutional
authority over federal property and U.S. territories and its authority over foreign and
interstate commerce, has sufficient constitutional authority to regulate OCS resources.